PRESS RELEASE: Z-CoiL Unveils Six New Springy Soled Shoe Styles
Now There Are More Fashion Choices In Getting a Spring In Your Step
San Jose, CA (PRWEB) January 27, 2005 -- Today,
EZ-Shoes
, an independent Z-CoiL pain relief footwear dealer, is happy to announce that they are one of the first retail outlets in the country to offer
six new stylish springy soled shoes
to individuals that suffer from back, leg or foot pain in the South Bay Area.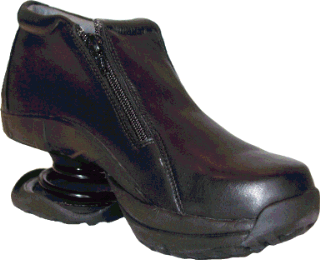 Several of the styles (Taos Zip, the Bone SideWinder Sandal, the Taos Strap and the Zueco Strap) were produced to test their marketability - meaning that if customers buy them and provide positive feedback, they will be put into the full line of production.
The brown/tan Men's SideWinder Sandal and the Women's Lo-Cut Dress boot (photo) are a Limited Edition – the pain relief footwear will not be offered again once these styles sell out.
"We have had a great demand for a more dressy style for both men and women and Z-CoiL Corporate listened!" said Caesar Snee, owner of the authorized Z-CoiL San Jose store. "We have had great reception of the new styles. The "Mary Jane" style for the women fits well and holds onto the heel better than the traditional clog. It also is cut lower in the front for people who have a high instep and can't fit into other styles."
click title for more